My first attempt is baking bread. I've never baked bread before because it's very intimidating. When I think of yeast and kneading my head starts to spin. There are so many things that can go wrong while attempting this but what the hey, let's give it a try. There is nothing more delicious than fresh baked bread.
I pulled this recipe out of my Better Homes and Gardens cookbook. If all goes well my bread should look something like this: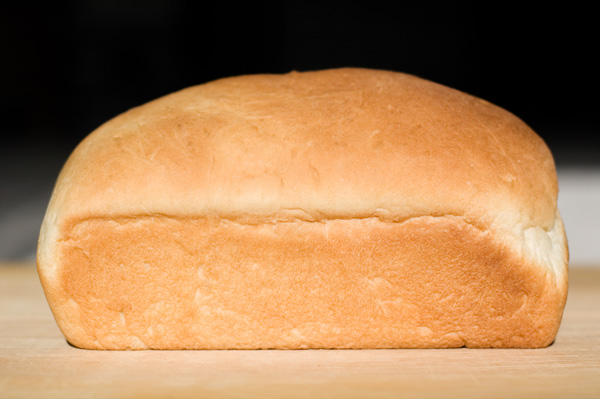 Better Homes and Gardens
White Bread
5 ¾ to 6 ¼ cups all-purpose flour
1 package active dry yeast
2 ¼ cups milk
2 tablespoons sugar
1 tablespoon butter
1 ½ teaspoons salt
1. In a large mixing bowl combine 2 ½ cups of the flour and the yeast; set aside. In a medium saucepan heat and stir milk, sugar, butter, and salt just until warm and butter almost melts. Add milk mixture to flour mixture. Beat with an electric mixer on low to medium speed for 30 seconds, scraping sides of bowl constantly. Beat on high speed for 3 minutes. Using wooden spoon, stir in as much of the remaining flour as you can.
(here is my bread at this point)
2. Turn dough out onto a lightly floured surface. Kneed in enough of the remaining flour to make a moderately stiff dough that is smooth and elastic (6 to 8 minutes). Shape dough into a ball. Place in a lightly greased bowl, turning once to grease surface of dough. Cover; let rise in a warm place until double in size (45 to 60 minutes)
(Kneading the bread did not turn out to be as scary as I thought it would. You push the bread out, away from you and then fold it over towards you and push back out while turning the dough. It was pretty easy.)
(To let the dough rise, I put a bowl of very warm water on the bottom rack of the oven and my dough on the top rack of the oven. I waited for an hour and this is what my dough looked like when the timer went off.)
3. Punch dough down. Turn dough out onto a lightly floured surface; divide in half. Cover; let rest 10 minutes. Meanwhile, lightly grease two 8×4×2 inch loaf pans.
(I only had one proper loaf pan so I had to wait until one loaf was completely done before I made the other loaf.)
4. Shape each dough half into a loaf by patting or rolling.
( I had to look on youtube how to shape bread into a loaf and found this very simple video.Thank you heavenly homemakers)
(This is what my bread looked like after I shaped it and put it into my greased pan and let it rise.)
5. Place shaped dough halves in the prepared pans, seam sides down. Cover and let rise in a warm place until nearly double in size (about 30 minutes).
6. Preheat oven to 375. Bake for 35 to 40 minutes or until bread sounds hollow when lightly tapped. (If necessary, cover loosely with foil for the last 5 to 10 minutes of baking to prevent over browning.) Immediately remove bread from pans. Cool on wire racks completely.
(I did put foil over my bread for the last 10 minutes of baking and my bread turned out beautifully.)
My whole family loved it and in the morning we are going to have french toast! YUM!
WOO HOO! I can make bread! Who knew?